If you look closely, you notice 4 green traces leading out of the left side of the transformer. They lead ultimately (with a minimum of side-trips) to the dongle connector. While a lot of other stuff also leads to the dongle connector, these four are the lines that carry your network data.
** No transformer on your netcard? If you looked and looked, and are certain there is no transformer on your card, you may be right. It might actually be inside the manufacturer's dongle, in which case you're out of luck. **
So, now you've
probably
narrowed things down to 4 wires. To most easily determine which ones go with which (e.g. the sending pair and the receiving pair), connect an ohmmeter across them. You will have to find someplace where each trace terminates in bare metal and/or a solder pad (for example, where they attach to the transformer). Little or no resistance (short circuit) across a given pair of wires indicates that they go together. Now you've narrowed it down to 2 pairs, but don't know which pair is for sending vs. receiving. At this time, you can fire up your soldering iron and solder in wires that connect to these 4 signal lines.
** This is very delicate work! Most, if not all, components in the network card will be tiny surface-mount parts all packed together pretty tightly. If they get too hot (e.g. from having a soldering iron near them too long) they can start floating around on their solder pads, as shown below: notice how the component marked "L3" appears crooked compared to L2 next to it. This image is taken from my own 3c589 card. (Try to be more careful than I was :-) **

Determine sending vs. receiving pair, and polarity
No easy ride here folks, you have to figure it out by trial and error. Luckily, we are down to only 4 possible ways you could hook them up. Now, plug your RJ45 connector into your network hub. With the card inserted in your computer, properly configured, turned on, etc., take the wires from pins 1 and 2 on the RJ45 connector (the Receive pair) and attach them to one of the pairs of wires you soldered in to the card. Watch for the "Link" light on your hub to come on. If nothing, reverse the wires and look again. If still nothing, repeat with the other pair until it detects your card.
You've now narrowed things down to 1 pair left to attach, and only 2 possible ways they could be hooked up. Connect the remaining wires to pins 3 and 6 on the RJ45 connector and see if your machine can access other machines through the network. If nothing, try reversing the wires you just hooked up.
Does it work?
If you have successfully connected to the network, congratulations! You can now make your connections "permanent" by either soldering the RJ45 to the wires leading out of your netcard, or attaching some kind of 4-conductor plug on each end so you can detach your network cable at will. On mine, I soldered matching plugs to the network card and a long Cat-5 cable ending in a RJ45 plug.
Once you are satisfied that everything works, mix up some epoxy and apply it liberally to hold all your wires and solder joints in place. This will prevent repeated bending and stress on your wires from breaking off any part of your delicate solder job. ** Epoxy is your friend.** If you soldered your own plug onto the other end, epoxy all the wires there too. Finally, reattach the metal "shell" around the card. It may be necessary to cut a little notch or hole in this metal to provide an exit for your wires.
Signal wires soldered in and fixed in place with epoxy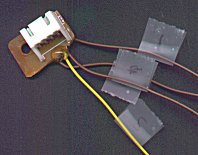 Custom plug attached to network card. Scotch tape "flags" were used to mark the signal lines during soldering.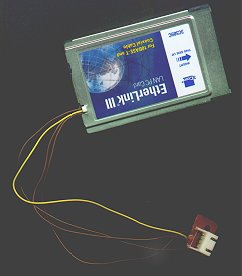 Finished product